Honda CT70 Hydraulic Forks w/ Disc Brakes Headlight Brackets (Aluminum Color Forks)
Includes EVERYTHING
CNC Cut Parts = Quality
Headlight Brackets Included
Thank your buddy Trump for the price increase due to his Foreign Trade Tarrifs
Modernize your Honda CT70 with this Hydraulic Fork Kit from WIld Powersports.  This kit uses full hydraulic forks, and includes the entire disc brake setup, headlight brackets, speo gear and cable, and even caged headset bearings.  This is a high quality kit with all CNC cut parts that will fit your machine perfectly. 
We run this setup on the Wild Power Sports CT70, and love it.  The performance difference off-road is night and day.  Braking power is now on par with a modern dirt bike.  We just love our CT70 and the Fork Kit!
If you have an older Honda CT70 with the "pogo stick" forks you know how much they suck.  Make the machine perform like current-day bikes!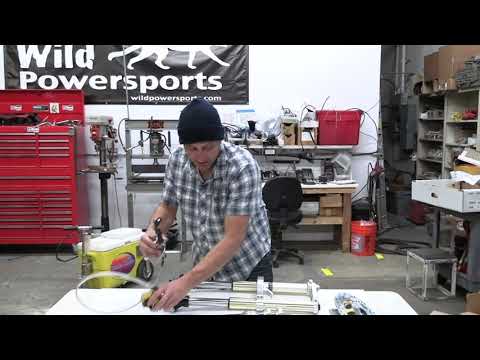 Dunarri Wild Power Sports CT70 Hydraulic Fork Kit
Video will open in a new window
Using the eBay App? Paste link into a browser window:
Headlight bracket is now Billet instead of stamped plate!
The picture shows a thin stamped headlight bracket, but we have now redesigned the headlight brackets and had them cut on a mill out of Billet Aluminum.

Important:
Since the fork mounting tube varied in length over the years we kept the center shaft the longest that could be necessary with any CT70.  You may need to use washers under the top tripple tree nut or cut down the center shaft for older models...no big deal to do.  Easy enough to cut or just use some washers.

The caliper mounting bolts and the headlight bracket screws are not included.  However, they are standard 6mm and 8mm bolts available from any hardware store.
The top bearing no longer has any play in it.  We have changed the bearing for a nice perfect fit.  Unfortunatly, this may make it too tight for a few CT70 clone frames.  Sorry clone guys, you were voted out.  The majority of people who ordered from our last batch had Honda frames and wanted the tighter fit, so we changed the bearing.   The bearing will fit most clones perfectly, only now and then we have one it wont fit.
The Kit includes everything in the parts picture.  The pictures of the forks on a bike are to show you what it will look like on the bike, so of course it does not include the headlights, wheel, tire, or the entire CT70!
More Information

| | |
| --- | --- |
| Fits | Honda CT70 |
| Manufacturer | Dunarri |
| MPN | 83-8630 |
| Hitch Lock | None |
| Part Status: | In-Production |